About Us
Medihill launched in 2010 and is headquartered in the Greater Philadelphia region. Since day one, we've made it our company mission to provide reliable, effective, and affordable medical equipment to the people who have limited abilities but still want to enjoy amazing and independent lives. Throughout our history, we've designed, developed, and manufactured different types of medical equipment. We've distributed our products worldwide and the Medihill® trademark always guarantees the best quality and service. Here at Medihill, we strive constantly for originality and to improve our services. This relentless focus on the most recent technologies and top-notch service has earned us many loyal customers. We know that our customers rely on Medihill's products for maintaining their health and performing daily activities. It's our goal to make our products affordable and available to anyone who needs them. One of Medihill's primary goals is patient health, safety, and comfort. We take a great deal of pride in helping people alleviate suffering and leading more comfortable lives as they battle either illnesses or disabilities. It's wonderful to hear that our medical alerts have helped saved lives.
Medihill® trademark is always the guarantee of the highest quality and service
We have been continuously striving for innovations and improvements. Our relentless focus on the highest quality, latest technologies and outstanding service had earned us many loyal customers. Our cost-effective operations have been evidently reflected on the prices of our goods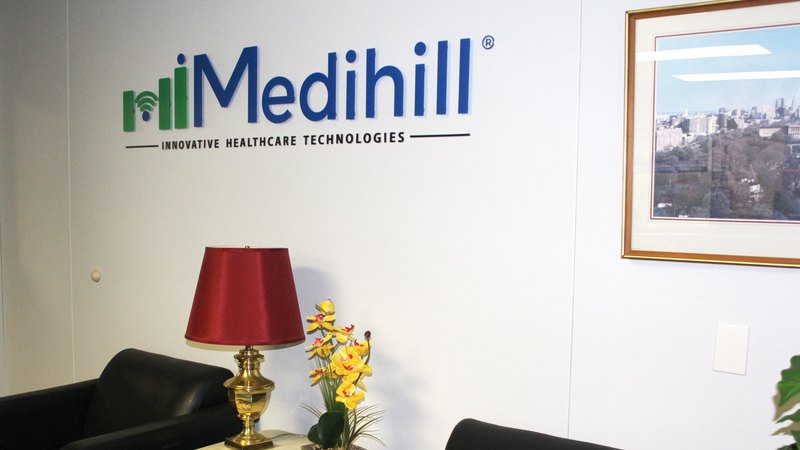 Medihill is not your regular medical monitoring provider
We do not stop at the emergency situations. We are helping our consumers to proactively and intelligently watch over their health and wellbeing anywhere and anytime. In the expanding Telehealth market, we will be your guide to the most sophisticated Healthcare using unprecedented technologies.
Our core values will always be to serve consumers by providing equipment and communication to qualified help.

Our greatest reward is when we are told that our systems saved someone's life.

Our biggest achievement is our team of professionals who not only master our business, but deeply care about helping others.
We understand that our customers rely on Medihill's products for supporting their health and performing their daily activities. We intensely concentrate on making our products affordable and available for everyone who needs to use them. Our focus is on the patient's health, safety and comfort. We take a big pride in helping people to alleviate suffering and making their lives more comfortable at the period of sickness or disability.
Why Medihill?
Monitoring

Our monitoring centers are dedicated to giving you a peace of mind with our highly trained operators.

Cost

Nationwide lowest monthly cost for 24/7 live assistance. Available longer subscription plans for instant savings.

Equipment

With the push of a single button, our medical alert devices place calls and find your location using the latest technologies. You will be always connected.

Service

We will walk an extra mile to help everyone to feel safe and protected with us. Our goal is to make every customer satisfied with our services.
Live Chat
Chat with one of our knowledgeable professionals to learn more about Medihill, how to use our products or how to buy them.
Request a Call
Please leave your information below and we'll get back to you as soon as possible.
Send an Email
You can always write to us with your questions or concerns. We'll reply as soon as we can. Drop Us a Line
Get Your Free Brochure Today!
Once we have your details, we'll send out a brochure to you shortly.

Dianna Martin - Tuscon, AZ
Every senior citizen should check out Medihill.

Fay Scott - Orlando, FL
I signed up with Medihill and I absolutely love it. I love their products and features. I'm a 74 year old woman who lives alone and never have I felt so safe the way I do now with their system.

Tim Smith - Florence, SC
I'm in my mid-40s, but my seizures make it hard for me at times. I turned to Medihill's Home alert system and I'm really happy. Now, I feel like I don't have to rely on my family as much and I'm looking to move into a place of my own soon.

Jack Ortiz - Boise, ID
We were struggling to find a way to help my aging father because my husband and I both work full time. It wasn't possible for either one of us to quit our jobs to become round-the-clock caregivers and my dad didn't want to go into a nursing home. Finding out about Medihill's Fall Detection options was a relief. My dad doesn't feel like he's a burden to anyone and we know that he can get help right away if we're not around.

Clay Turner - Aurora, CO
I'm no spring chicken, but I didn't want to give up traveling. The portable alert device I bought from Medihill lets me hit the road worry free.

Hadea King - Chester, PA
My mother has this company and we love their services. If anytime she needs their help they are there at a push of a button. Really fast(timely) service.