People, especially the elderly, are using Personal Emergency Response System (PERS) much more these days. Due to technological advancements, seniors can use these systems to live independently for longer. As you're researching in-home and portable alert systems, knowing the benefits of Medical Alert can be helpful.
Who Benefits the Most from Personal Emergency Response Systems
Seniors benefit the most from Personal Emergency Response Systems, especially if they want to stay in their homes living independently as long as possible. One of the biggest reasons older individuals move out of their homes into a nursing home is because of the dangers of living alone. Mitigating these dangers is possible when a Medical Alert is available.
People over the age of 55 years are most likely to use Personal Emergency Response Systems. The following graph from Statista shows the number of people who own a device increases with age.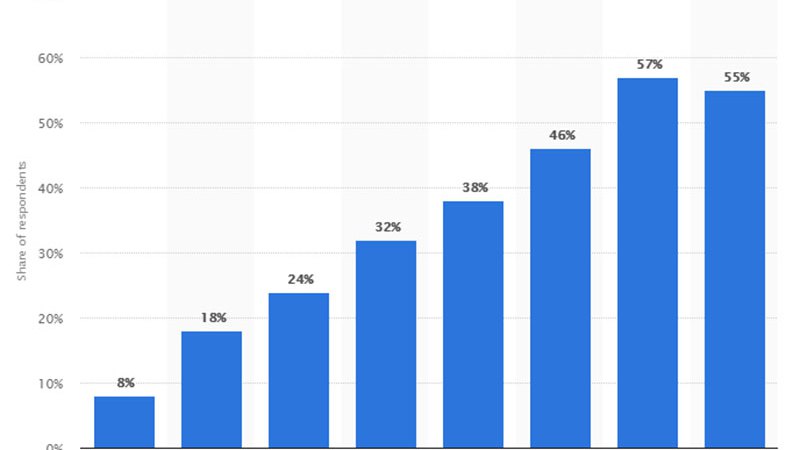 All seniors can benefit from Medical Alert (PERS), but the following are the ones who definitely need to have an emergency response system.
Seniors who have a history of falling or have been identified as having a high fall risk. In-home and portable medical alert systems with fall detection are necessary for those who have a high fall risk. The elderly can sometimes experience health issues, such as fainting and dizziness. They may also have a difficult time with balance, which can lead to falling. Time is of the essence when older individuals fall because it can cause life-threatening injuries. A medical alert fall detection system can contact ambulatory services for transportation to the nearest emergency room.
Older individuals who live alone. These people may not have anyone to depend on in case of an emergency. This can be dangerous if an emergency occurs, such as the person doesn't feel well, falls, accidentally causes a fire, or if someone tries to break into the home.
People who have mobility issues. Not being able to move when there is an emergency is life-threatening. If someone falls and can't get up, they may end up on the floor for hours or, in severe cases, days. This doesn't have to happen. People who live alone and have mobility issues can get all the benefits of Personal Emergency Response Systems when they need them, especially seniors.
While the elderly population are the most common users of medical alert systems, all ages can use them. They provide many benefits to anyone, including those who live with a disability.
Learning about the benefits of PERS can help you see why this investment is crucial not only your life, but it is vital to your happiness in being able to live in your home independently for as long as possible.
Why You Should Invest in a Personal Emergency Response System
The first factor people often look at when trying to decide if they should invest in a Personal Emergency Response System is the price. Fortunately, there are many different systems available to meet people's budgets, so pricing should not be the only deciding factor. A comprehensive PERS provides all of the necessary protection someone living alone with limited mobility needs and deserves. The following are the ways that Personal Emergency Response System can help.
Medical Alert System Provides Immediate Contact with Live Operator
As individuals grow older, they begin to suffer from additional medical issues that can result in needing immediate attention. Due to limited mobility, seeking emergency medical care can be difficult. Medihill medical alert systems can alert emergency services if there is a problem needing prompt medical attention.
One of the most desirable features of the personal medical alert system is the ability of operators to call quickly access information about the user. Since the customer's information is available in a database and linked to their system, the operator can provide all of the details 911 needs quickly. This is a life-saving feature because, if a senior falls or is unable to speak, emergency medical responders can react appropriately with the information they receive from the medical alert operator.
Time is everything when someone with medical issues isn't feeling well or has fallen. This system helps speed up the medical response time for a better outcome.
Get Help from the Police
Seniors who are living independently often wish for extra security in case of a home invasion. Unfortunately, this population is highly targeted by thieves because of their vulnerability. One of the benefits of a Personal Emergency Response System is the added feeling of safety at home because seniors have the capability to contact law enforcement with the touch of a button. Within minutes, police officers can be at the residence. This can provide comfort and allow the elderly individual to sleep peacefully at night.
Alert the Fire Department
One of the luxuries of living independently is cooking at home. Seniors often become forgetful, suffer from tremors, or have other accidents that can result in a fire. When a fire breaks out, the person may not be able to put out the fire on his or her own; they may not act fast enough to do so. The main benefit of a Personal Emergency Response System is the simplicity of use. Seniors can simply press the button, tell the dispatcher what happened, and the fire department will come to the rescue.
How Medihill® Can Help
Medihill specializes in providing Personal Emergency Response Systems and Remote Patient Monitoring. We have many products to help seniors live longer independently in their homes.
This state-of-the-art PERS landline model is compact and can be placed on a tabletop. Due to its ability to be customized, it's perfect for anyone needing extra security.
This model does not require a landline because it works like a cellular phone. It has all the same features as the Medihill® Home PERS landline model.
In addition to our tabletop models, we also carry mobile Personal Emergency Response Systems. This allows users to take the medical alert device with them wherever they go in and outside of the home.
Additional features include:
Fall Detection Technology
Pendant/Wrist Convertible Transmitter
Fall Detection Pendant
For more information about all our landline, cellular, and mobile Personal Emergency Response Systems devices and their features, contact us now at 1-855-633-4445 or Order Online. We would love to help you feel safer everywhere you are.
Try Risk Free